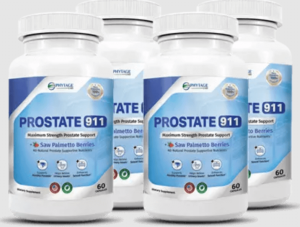 Prostate 911, an all-natural prostate health supplement can protect and maintain your prostate health and potentially prevent prostate cancer. 
In this blog, we're answering all your questions about this innovative prostate health supplement. What is Prostate 911? How does it work? And is it safe to take? We answer all these questions and more and highlight the all-natural ingredients that make Prostate 911 so powerful and so effective. 
At Prostate 911, we strive to help our customers improve the quality of their lives by protecting and maintaining their prostate health. Prostate 911 is an excellent proactive measure to ward off the need for more invasive treatment options. Our all-natural health supplement combats common prostate issues, including frequent urination, painful urination, the need to get up in the middle of the night to urinate, and even lower back and pelvis pain. 
If you're experiencing any of these symptoms, contact your doctor immediately for a comprehensive diagnosis. Then, see what Prostate 911 can do for you by protecting and preserving your prostate health. 
WHAT IS PROSTATE 911?
Prostate 911 is an all-natural prostate health supplement made only with high-quality, organic ingredients. This unique and powerful blend of all-natural ingredients is backed by scientific research and thousands of satisfied customers. Prostate 911 can relieve the symptoms of an enlarged prostate, help prevent prostate cancer, and even boost your energy and give you a better night's rest. 
COMMON CAUSES OF PROSTATE PROBLEMS
In addition to prostate cancer, one of the most common prostate issues is benign prostatic hyperplasia (BPH). Also known as an enlarged prostate, this condition is common in men as they grow older. Symptoms of BPH include frequent urination, difficulty urinating, or even urinary tract infections. 
But what causes this growth? Researchers have yet to determine the exact cause of an enlarged prostate, but they have been able to identify several risk factors and potential causes. Risk factors for BPH include:
Age

– the risk of prostate gland enlargement becomes increasingly common past the age of 40 and continues with age.

Family history

– the risk of BPH may be genetic.

Heart disease

– some studies show a link between heart disease and an enlarged prostate. 

Lifestyle

– obesity can increase your risk for BPH. 
While an enlarged prostate can lead to difficulty urinating and other health symptoms, there is no evidence that this condition increases your chances of developing prostate cancer. 
HOW DOES PROSTATE 911 WORK? 
Prostate issues are common for men as they grow older. With age, your prostate may increase in size, which can lead to difficulty urinating and other urinary problems. Ingredients found in Prostate 911, such as nettle root and saw palmetto, can help the flow of urination. Other ingredients work to shrink and heal the prostate gland. 
PROSTATE 911 ALL-NATURAL INGREDIENTS
The secret to making our health supplement so effective is the unique blend of all-natural, organic Prostate 911 ingredients. Each ingredient has been carefully studied and selected for its health benefits and ability to relieve symptoms associated with an enlarged prostate. 
While additional research is still needed, some ingredients have shown they can reduce your prostate cancer risk. Here's a closer look at the powerful active ingredients that make Prostate 911 so effective: 
1.
Pygeum.
Found in central and south Africa, the bark of the Pygeum tree has been used for generations for its unique medicinal properties. Found in many health supplements, Pygeum can be effective at treating the symptoms of an enlarged prostate and may even reduce your risk of developing prostate cancer.
Pygeum has many additional health benefits. The bark of the Pygeum tree has been used to treat pain resulting from malaria, stomach aches, urinary issues, and fever. While additional research is still needed, Pygeum has a long, proven track record of success in treating multiple ailments.           
2.
Uva Ursi.
Uva ursi is a plant that grows natively throughout the United States and Canada. This plant was used by Native Americans as a food source, traditional medicine, and to make a yellow dye. Truly a versatile plant, uva ursi is now used in many health supplements due to its wide range of medicinal properties.        
Additional studies are needed to verify the efficacy of uva ursi, but this plant has been used for a variety of medicinal purposes. Uva ursi can potentially reduce inflammation, soothe minor aches and pains, constipation, kidney infections, and boost your immune system. 
3.
Pumpkin Seed.
Even though they're small, pumpkin seeds pack quite the nutritional punch. In addition to relieving symptoms of an enlarged prostate, pumpkin seeds also contain vitamin K, phosphorus, magnesium, copper, zinc, and iron. They're also a good source of antioxidants, which means that they help you fight off free radicals and prevent colds and other illnesses. Antioxidants also reduce inflammation and can reduce symptoms of inflammation like swelling, redness, and pain. 
Pumpkin seeds are also one of the best natural sources of magnesium—an important mineral that's essential for many of your bodily functions. Magnesium maintains normal blood pressure, heart rhythm, and keeps your bones strong. If you're having trouble sleeping at night, the magnesium in pumpkin seeds has been linked to improving sleeping patterns.
Pumpkin seeds are also a good source of fiber, aiding in your overall digestive health. Some studies show that diets high in fiber can reduce your risk of heart disease and related illnesses.       
4.
Nettle Root.
Nettle root is another powerful active ingredient found in prostate health supplements like Prostate 911. The stinging nettle root has been used to treat ailments for centuries. Ancient Egyptians used stinging nettle to treat arthritis and even relieve back pain. Today, nettle root can help relieve the symptoms of an enlarged prostate.            
Nettle root is also loaded with beneficial nutrients and vitamins. The leaves and roots of the nettle plant contain vitamin A, vitamin C, vitamin K, calcium, and iron. Nettle root also has a ton of essential amino acids and healthy fats your body needs.            
5.
Vitamins and Nutrients.
In addition to ingredients like pumpkin seed and Pygeum, Prostate 911 is also packed with vitamins and nutrients to fuel your body and improve your overall health. Prostate 911 contains vitamin E, vitamin B-6, zinc, copper, and selenium. 
HOW DO I USE PROSTATE 911?
Prostate 911 comes in capsule form and should be taken just like a daily multivitamin. For the most effective results, take two capsules each day (one in the morning and once at night) with a glass of water. 
IS PROSTATE 911 SAFE?
Yes, Prostate 911 is safe to incorporate as part of your regular diet. Since Prostate 911 is an entirely natural health supplement—not a medication—it's safe to use for healthy men and women. If you have a serious medical condition or you're already taking medication, you should first consult your physician before adding Prostate 911 to your diet. Pregnant women and children under 18 should not use this health supplement. 
WHERE CAN I BUY PROSTATE 911?
Prostate 911 is only available for purchase through our secure website. Secured by 256 Bit SSL encryption, you can rest assured that your information is safe. We ship worldwide and offer discounted prices for purchases of more than one bottle of Prostate 911.
Why wait? Order now to begin your journey to improved prostate health today. 
IS PROSTATE 911 AVAILABLE TO BUY ON AMAZON?
Currently, Prostate 911 is not available for purchase through Amazon. Prostate 911 can be purchased through our secure website. This ensures that your purchase qualifies for our 90-day money-back guarantee. 
SHOULD YOU TAKE PROSTATE 911 AS PART OF A HEALTHY DIET?
Yes. Because Prostate 911 is a health supplement, it's an ideal addition to your balanced and healthy diet. It's important to remember that a health supplement is just that—a supplement—which means you shouldn't alter a healthy diet because you're taking this product. Health supplements are designed to boost a healthy diet—not replace one. 
HOW LONG DOES IT TAKE TO EXPECT RESULTS?
Our blend of organic and all-natural ingredients is developed for easy-absorption, which means most individuals experience results quickly. While you should feel the effects within seven days, we do recommend that you give the product a complete 90-day trial run for the best results. 
HOW CAN I BE SURE THAT PROSTATE 911 ISN'T A SCAM?
Prostate 911 is backed with a 90-day money-back guarantee, which means that you can order this health supplement with peace of mind. PhytAge Laboratories fully believes in our full range of health supplements, including Prostate 911, and uses the highest quality organic ingredients. Our health supplements are supported by scientific evidence and have helped countless customers better protect and preserve their prostate health. 
CONCLUSION – DOES PROSTATE 911 REALLY WORK?
Yes, Prostate 911 works. The unique and evidence-backed blend of organic ingredients makes Prostate 911 one of the most effective prostate health supplements on the market. In addition to relieving symptoms associated with an enlarged prostate, Prostate 911 can boost your energy, help you get a better night's rest, and improve your overall health. If you're concerned about the health of your prostate, Prostate 911 could be the health boost you're looking for. 
For more information on our high-quality prostate supplements, please visit our PhytAge Labs website or reach out to us on our contact page. Don't wait until it's too late to take care of your prostate—act now and make Prostate 911 a part of your daily diet. 
After melanoma, prostate cancer is the most common type of cancer for men in the United States. In fact, according to the American Cancer Society, roughly 1 in 8 men will be diagnosed with prostate cancer at one point in their lives. Men may feel dismayed at this statistic, but hope remains.